Overview of the verticalization of technology: history of the occurrence and relevance of application
Authors: Podolskaya J.А.1, Borisov I.V.1, Sukhbaatar O.2, Sorokina V.S.2
Affiliations:

Federal Research and Clinical Center of Intensive Care Medicine and Rehabilitology
Peoples' Friendship University of Russia

Issue: Vol 25, No 1 (2022)
Pages: 73-84
Section: Review
Cite item
Full Text
Open Access

Access granted
Subscription or Fee Access
Abstract
Verticalization is a mobilization technique that is aimed at preventing and treating impaired gravitational gradient in patients who are on bed rest for >24 h, regardless of their motor and cognitive status, and is conducted actively and passively. Passive verticalization as a rehabilitation technique is recommended for patients who cannot stand up independently and keep themselves in an upright position because of the severity of the general condition.
In the preparation of this review, mainly literature sources from highly rated publications were used. Preference was given to sources published in the last 10 years. Review articles and materials prepared by experts in the field of writing/editing scientific publications, including review articles, were selected for the review.
In the aggregate of the verticalization methods analyzed, the common recommendations for all are the early start of rehabilitation measures, continuity, and careful monitoring of hemodynamic characteristics. The technique itself today has more than 50 years of experience, and the combination of verticalization technologies with a mechanotherapeutic simulator with electric motor support is a modern solution for their application. This equipment can be used in both intensive care in addition to the equipment of continuous respiratory support and rehabilitation and other wards.
The verticalization procedure, if possible, should be applied at the earliest possible time after the traumatic event to improve the rehabilitation potential. The verticalization of patients with chronic impairment of consciousness has physiological features, and hemodynamic adaptation is recommended to reduce the risk of orthostatic cerebral ischemia. For patients with disorders of the central nervous system, preliminary adaptation should be conducted to subsequent verticalization by gradually lifting on a multifunctional bed under hemodynamic control, including the CNAP continuous blood pressure monitoring system (Dräger systems).
Full Text
References
Nekrasova J, Kanarskii M, Borisov I, et al. One-year demographical and clinical indices of patients with chronic disorders of consciousness. Brain Sciences. 2021;11(5):651. doi: 10.3390/brainsci11050651
Bakulin IS, Kremneva EI, Kuznetsov AV. Chronic disorders of consciousness. Ed. by M.A. Piradov. 2nd revised and updated. Moscow: Hotline-Telecom; 2020. 288 p. (In Russ).
Federal State Statistics Service (Rosstat). Russian Statistical Yearbook-2021. Statistical collection. Moscow; 2021. 697 p. (In Russ.)
World Health Organization. World Health Statistics 2021 [Internet]. Available from: https://www.who.int/data/stories/world-health-statistics-2021-a-visual-summary. Accessed: 15.12.2021.
Borisov IV, Bondar VA, Kanarsky MM, et al. Remote rehabilitation: role and opportunities. Physical and rehabilitation medicine, medical rehabilitation. 2021;3(4):399–408. (In Russ). doi: 10.36425/rehab80253
Dorogovtsev VN, Yankevich DS, Melnikov OA. Orthostatic circulatory disorders in the process of verticalization in patients in the postcomatous period after severe brain damage. Physical and rehabilitation medicine, medical rehabilitation. 2020;2(3):204–216. (In Russ). doi: 10.36425/rehab25748
Belkin AA. Syndrome of consequences of intensive therapy (PIT syndrome). Bulletin of intensive therapy named after A.I. Saltanov. 2018;(2):12–23. (In Russ). doi: 10.21320/1818-474X-2018-2-12-23
Ministry of Health of the Russian Federation. Methodological recommendations. Rehabilitation in the intensive care unit (intensive care unit). 2021. 96 p. (In Russ).
Kovalchuk VV, Khaibullin TN, Zueva IB, et al. Theoretical and practical principles of neurorehabilitation of stroke patients. J Neurology Psychiatry S.S. Korsakov. Special Issue. 2018;118(9):55–62. (In Russ).
Motloch W. The parapodium: an orthotic device for neuromuscular disorders. Artificial Limbs. 1971;15(2):36–47.
Vlasova AK. Automated drive orthotic system of the vertical simulator: bachelor's work. Tomsk: National Research Tomsk Polytechnic University, Engineering School of New Production Technologies, Department of Materials Science, 2021. (In Russ).
Daminov VD, Rybalko NV, Gorokhova IG, et al. Robotic mechanotherapy using the ERIGO system in the rehabilitation of neurological patients. National Medical and Surgical Center named after N.I. Pirogov: collection of scientific papers. Moscow; 2009. 421 p. (In Russ).
Polyakova AV. Changes in systemic hemodynamics and cerebral blood flow during verticalization on a turntable (tilt-table) in patients with hemispheric ischemic strokes in the acute period [dissertation abstract]. Saint Petersburg; 2014. 24 p. (In Russ).
Astvatsaturov MI. Neurology: selected works. Moscow: SIMK; 2017. 544 р. (In Russ).
Frazzitta G, Zivi I, Valsecchi R, et al. Effectiveness of a very early stepping verticalization protocol in severe acquired brain injured patients: a randomized pilot study in ICU. PloS One. 2016;11(7):e0158030. doi: 10.1371/journal.pone.0158030
Krewer C, Luther M, Koenig E, Müller F. Tilt table therapies for patients with severe disorders of consciousness: a randomized, controlled trial. PloS One. 2015;10(12):e0143180. doi: 10.1371/journal.pone.0143180
Supplementary files
Supplementary Files
Action
2.
Fig. 2. The first verticalizer model developed by LEMO (Switzerland) in 1975 and its modern version.
3.
Fig. 3. A verticalizer with a simulator for active-passive mechanotherapy of the lower extremities (Hocoma, Switzerland, 2005).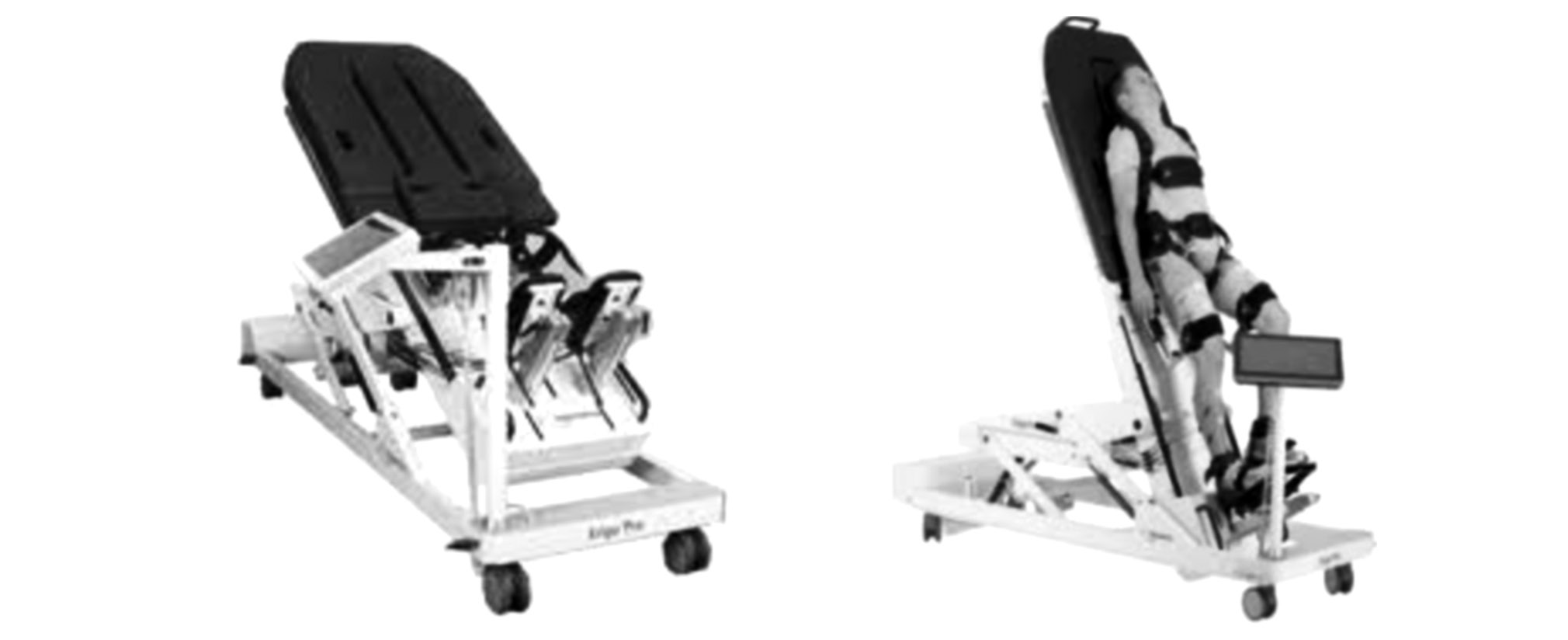 4.
Fig. 4. SNAP module: Unique unique design with two cylinders for quick and easy application for continuous measurement of blood pressure and provision of extended hemodynamic parameters.